Eura Snyder[1] is a fictional character in the American adaptation of Skins, and is played by Eleanor Zichy.
Characterization
Like her UK counterpart, Eura spends most of the season completely silent and speaks for the first time in her focus episode. She enjoys sneaking out and partying behind her parents' back, often relying on Tony to bail her out.
Unlike Effy, she connects with Cadie who recognizes that they are both troubled and need help from each other. In "Eura", she plots to bring Tony and his friends together to make them settle their differences with him, whereas Effy falls victim to Tony's rival and needs him to bail her out of the situation when she is unconscious.
She is observant of her surroundings and recognizes whom Tony cares about the most: Stanley and Tea.
Character History
Season 1
In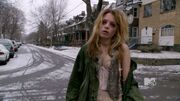 "Tony", Eura is out late again at a party, and she needs Tony's help to sneak back in without her strict father knowing. Eura sneaks in through the front door and gets to her room in time to get changed like nothing happened. But, Tony has to pay the consequences, and he gets yelled at by
their obnoxious father. Later on, as retaliation Tony fakes a "shit" and locks the bathroom door, sneaking out the window and into the front of the house to eat breakfast. Eura is sitting at the table eating silently, but seems to enjoy the mischief her brother caused.
In "Chris", Eura is chilling out watching T.V. She's eating and sitting on the bed "chillaxing." She is of course not saying anything because she pretty much keeps to herself.
In "Cadie", Eu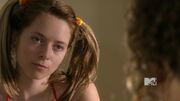 ra is sitting at a table at Michelle's party. Cadie doesn't know what she's doing, so she sits down with her and starts talking to her. She asks if she is Tony's sister, and she nods her head. But, that's the only form of communication she does. Cadie asks her some questions including "You don't talk much do you?" Eura just stares at her blankly while sipping a margarita. Chris walks in to get a drink and says hi to Cadie, and says "Hi Tony's weird sister." Also, Cadie asks if she should go after Stan, and Eura nods yes.
In "Eura", Eura comforts Tony over his depression. She then goes to Michelle with an apology letter that Tony wrote. Michelle reads it and finds out the letter was meant for Tea. When Eura gets home, Tony already knows what happened after he gets a text from Michelle. Eura then decides to runaway so finding her will bring everyone together. Stanley finds her and she finally speaks to him. He forces her to come home. After she does come home, she says, "Night mom." Her mother, clearly shocked that Eura is actually speaking sputters "Night sweetie." in return.
References